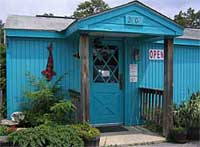 Aquatic Creations is family owned and operated, and opened its doors in 1992 near Urbana, Maryland. The owners and employees have an amazing combined experience of close to 100 years in the aquarium and pond industry, and even more in the hobby.
Featured in one section of the building are a wide variety of pond product as well as pond fish. At our store, you can find domestic koi and gold fish, but the real jewels are the Israeli and Japanese imported Koi and goldfish. We have all sizes of koi from 4" to over 18" available in both pet and show quality, as well as variety of shubunkin, comet, and fancy goldfish from 3" to 8".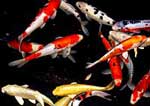 Our beautiful koi are hand picked from Israel and Japan several times a year, so there is always an excelllent selection of all varieties and sizes. Check out our partners website, AmeriKoi, to see what is available for sale over the internet.
We also carry an assortment of pond plants including hardy lilies, water irises, water hyacynth, and oxygenators. We even have tadpoles and snails!
In another section of the building, we have a large selection of freshwater and saltwater aquarium fish. We also have aquariums and aquarium products including foods, supplements, decorations, and more. All livestock can be viewed and purchased at the store.
Feel free to drop by during our regular business hours: Tuesday through Saturday 10am to 7pm, Sunday 12pm to 5pm, and closed Monday. For directions and a map, please visit the Contact Us page. On see a "Virtual Tour" below by viewing the photographs below. Click on any photograph to see a larger version.
| | | |
| --- | --- | --- |
| | | |
| | | |
| The sign seen from 355. When coming to visit us, this sign is your best indication of where we are. You can see it both directions on route 355. | This is a row of salt water display tanks in our fish room. All of our tanks have decoration so the fish feel more comfortable in their temporary home. | Our live plant tank and reef tank. We stock a variety of submerged plants and corals. |
| | | |
| | | |
| | | |
| This is the indoor section of the koi room. Here we keep all of our larger koi, fancy goldfish, and many of our pond products. | In the outdoor section of the koi room, we keep smaller koi and comet, shubinkin and fancy goldfish. | Located within the outdoor koi room is a selection of floating and submerged pond plants as well as tadpoles, snails and our smaller preformed pond liners. |
| | | |
| | | |
| | | |
| In the courtyard we have several of the larger preformed ponds installed. This is the butterfly pond with an old fashioned water pump modified to be a fountain. | All of our courtyard ponds are expertly landscaped to give you ideas of what you can do with your pond. This is also the butterfly pond. | This pond is a 1,000 gallon koi pond lined with a flexible liner and filtered with the Patio Ponds Little Sister filter. |
| | | |
| | | |
| | | |
| The koi pond also has a beautiful waterfall and is lush with water lilies, water hyacynth, and water iris and surrounded by lavender, water mint and junipers. | The preformed Rockpond with a bell fountain and miniature hardy water lilies and water iris. | We offer several hardy lily varieties and many popular water plants such as pennywort, papyrus, water canna and more. |
| | | |