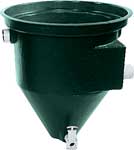 The Ultimate in Koi Pond Filtration
The Cyclone Series of filters from Patio Ponds ensures crystal clear water with a minimum of maintenance. The three chamber, passive filtration design allows only clear, clean water to reach the biological portion of the filter; boosting efficiency and reducing cleaning.
The first chamber is the Settling Chamber (shown right). The swirling motion created in the settling chamber uses centrifugal force to remove larger solid wastes passively. Cleaning is easy with the opening of the supplied drain valve. The second chamber is the Brush Chamber. The brush chamber is the secondary mechanical portion of the Cyclone system. The dense brushes remove any smaller, lighter particles that the settling chamber cannot remove. The water that exits the brush chamber is now completely free of solids, preparing it for the final phase of filtration. The third chamber is the Biological Chamber. The biological chamber is the life-support system of your koi pond. Nitrifying bacteria colonize the dense filter pads, converting harmful ammonia and nitrite into less toxic nitrate. Supplied with super-clear water, the bacteria can thrive, creating the ideal environment for your koi.
Cyclone systems are manufactured in the United States out of heavy-duty fiberglass. Unlike plastic imitations, Patio Ponds Cyclone filters won't leak, warp or lose their unique shape, ever! Cyclone filter systems are offered in two sizes to suit a variety of pond sistes. Larger ponds can be filtered by using multiple systems in parallel. Individual chambers are also available. (Can be used in either "pump-to" or gravity flow systems. Gravity flow is the preferred choice for higher efficiency of the settling chamber.)
Find replacement filtration media here.


(CYC2SYS)
Chamber dimensions: 38" diameter x 38 1/2" height
Perfect for koi ponds 3,000 - 5,000 gallons. Includes full lids, drain valves and inter-connects. Up to two 3" inputs (special order only).
Recommended flow rate: 2,000 - 3,000 GPH
| | | | |
| --- | --- | --- | --- |
| Item # | Description | Ship Weight | Price |
| CYC2SYS | Cyclone 5000 Complete System | 195 lbs. (motor freight), parts 37 lbs. (UPS) | $1989.89 |
| CYC2S | Settling Chamber | 50 lbs. (motor freight), parts 4 lbs. (UPS) | $529.89 |
| CYC2P | Brush Chamber | 45 lbs (motor freight), parts 30 lbs (UPS) | $699.89 |
| CYC2B | Bio-Chamber | 45 lbs. (motor freight), parts 4 lbs. (UPS) | $649.89 |


(CYC1SYS)
Chamber dimensions: 43 1/4" diameter x 39" height
Perfect for koi ponds 4,000 - 7,000 gallons. Includes full lids, drain valves, and inter-connects. Up to two 4" inputs (special order only).
Recommended flow rate: 3,000 - 4,000 GPH
| | | | |
| --- | --- | --- | --- |
| Item # | Description | Ship Weight | Price |
| CYC1SYS | Cyclone 7500 Complete System | 250 lbs. (motor freight), parts 50 lbs. (UPS) | $2789.89 |
| CYC1S | Settling Chamber | 70 lbs. (motor freight), parts 6 lbs. (UPS) | $859.89 |
| CYC1P | Brush Chamber | 65 lbs (motor freight), parts 40 lbs (UPS) | $959.89 |
| CYC1B | Bio-Chamber | 65 lbs. (motor freight), parts 4 lbs. (UPS) | $885.89 |